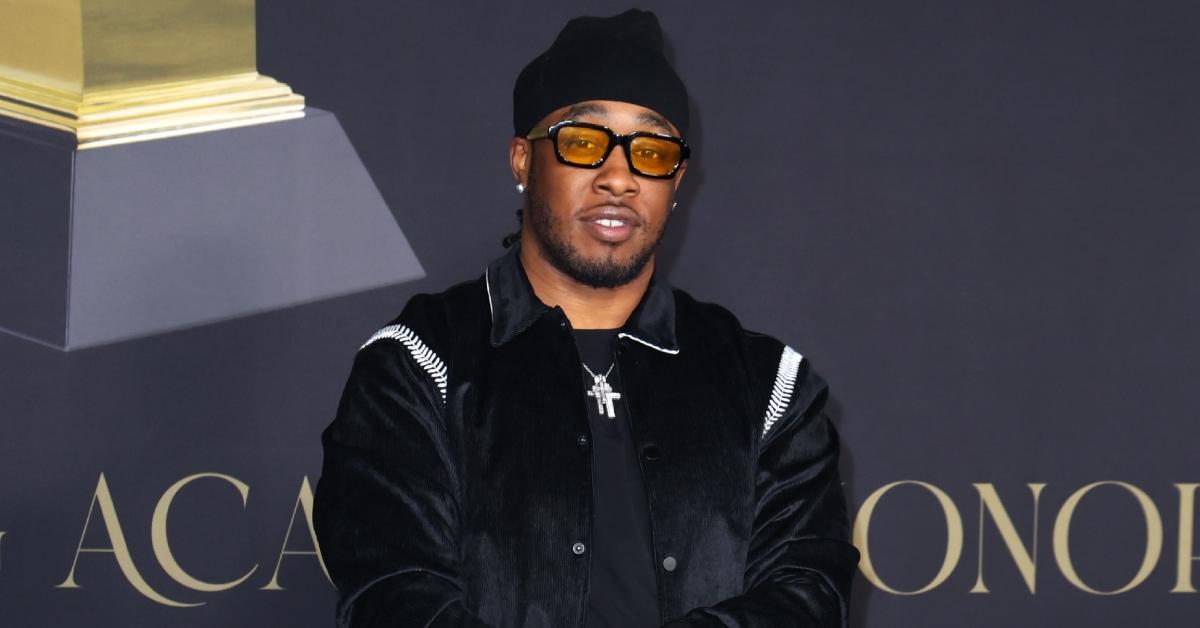 Rising Creative Dizzy Banko is on a Path to Success With Hit "Don't Play With It" (EXCLUSIVE)
Becoming a household name day by day, 'BleuMag' caught up with Dizzy Banko to discuss growing up and falling in love with beat-making.

By Justin Wallace

Jul. 10 2023, Updated 1:56 p.m. ET
If you haven't heard the "violation" tag featured in any of your favorite artists songs, let's just say they're missing out! Hailing from the Bronx, N.Y., Dizzy Banko has managed to make quite a name for himself in the music industry, and we credit his unique beats for that.
It wasn't long before Dizzy became the hottest producer out of New York. The five-time platinum producer has worked with hip-hop's most extraordinary acts including Pop Smoke, Fivio Foreign, and Dream Doll.
Dizzy has also had the pleasure of collaborating with some of New York's up-and-coming artists like Lola Brooke, HDBeenDope, and Young Devyn. In fact, Dizzy produced Lola's hit song "Don't Play With It," featuring Billy B. Although the song released in 2021, it wasn't until 2023 that it took fans by storm. The song now has 33 million views (and counting) on YouTube.
BlueMag had a chance to catch up with Dizzy and discuss his role the industry and what inspires his creative process.
Who is Dizzy Bank most inspired by?
Growing up, Dizzy developed his love for music from his aunt as she played music throughout the house. Selecting tracks from different generations, Dizzy was able to carve out his sound and learn what works for him, and what doesn't. Influenced by producers like Dr.Dre, Kanye West (Ye), Timberland, and Swizz Beats, Dizzy describes his sound to be raw and unique.
Article continues below advertisement
In 2022, Dizzy released his self-produced 2-pack EP, "PSA", which is now available on streaming platforms. Then, in May 2023, Dizzy took to Instagram to share some exciting news. In a photo captioned "the vault opens," a large screen displays the following" Dizzy Bank Welcome to the SMP Family!"
Whether you're a fan of Dizzy or of the projects he's produced, you're going to want to tag along with us as we dive deeper his early days and how he came up with the "violation" tag.
Article continues below advertisement
Take us through your early days of learning about music.
Dizzy: I started playing the piano for a bit. After a while, I began to play the drums, and from there, I and the drums got acquainted. The piano is cool. There are a lot of sounds that come with it. But the drums run through your body, mind, and soul, so I had no choice but to move. Mastering the art of the drums and percussions is what got me here today.
How did you come up with your tag 'violation?'
Dizzy: Long story short, my friend and I were producing a track, and he added the violation tag. I thought it was pretty cool. Whenever I produced a track, the sound had to match how the tag was coming. You want to come with that presence at the end of the day.
Article continues below advertisement
You are very diverse in producing. What is your creative process?
Dizzy: To be creative, I'll watch movies or listen to classic records. Segments from those two things help me be creative.
Article continues below advertisement
Wake Em Up" featuring HDBeenDope is going crazy in the streets. How did you and HD develop a relationship?
Dizzy: I reached out to him after listening to one of his tapes with Earl on the Beat. One day, HD decided to come up to the 845. During his visit, we created multiple records, which started our relationship. From there, we brought that same energy back to the city. It has been fun working with him. Us being able to bring two different energies together is what makes our relationship through music the best.
Was there a chip on your shoulder to make it big in music?
Dizzy: Not really! I felt no one took me seriously at the beginning, which is fine. I'm saying it from a perspective where others didn't know what I needed to make it to the next level. Being in that situation, I had to learn more about being respected in this industry.
Who are some of the artists you listen to now?
Dizzy: Kai Cash, Zico Nico, Millano, Young Zay. Pardon me. I'm bad with names (laughs). A lot of artists are coming up at this time. I'm still waiting to see what they would do to make it to the next level as an artist or producer.
If you want to keep tabs on Dizzy and find out more about the latest project he's working on, you can follow him on Instagram @dizzybanko.