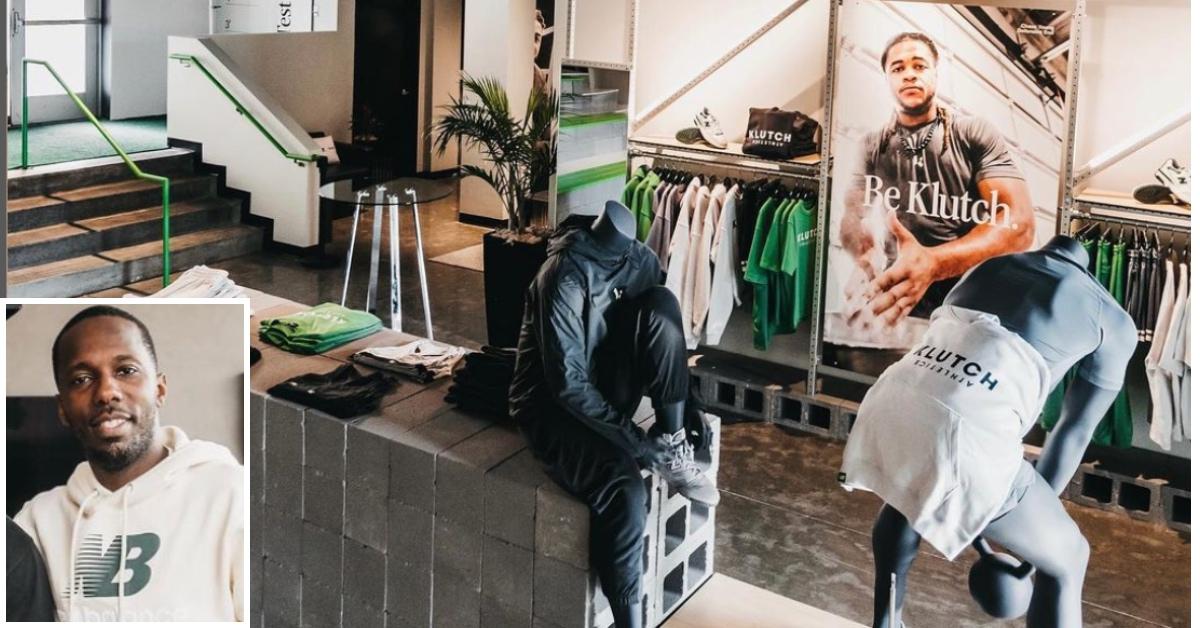 Rich Paul and New Balance Paired Up to Launch Klutch Athletics
New Balance and Rich Paul teamed up to launch of Klutch Athletics, an athletic wear clothing line. Paul is the founder and CEO of Klutch Sports.

By Bleu Magazine

Jul. 5 2023, Updated 11:35 a.m. ET
New Balance and Rich Paul celebrated the launch of Klutch Athletics in April 2023, through a series of events, which included a pop-up shop, VIP brunch, and a community giveback event benefiting the Boys and Girls Club of Kansas City and Good Sports.
The partnership reflects the brand's focus on sports and lifestyle, and the community events held around the brand launch involved 100 local kids, donations of equipment, and a newly-installed mural to benefit the youth.
The Klutch Athletics by New Balance pop-up event gave consumers a first-hand look at the new apparel line. As for the VIP Brunch, Paul, Chase Young, and New Balance CMO Chris Davis spoke to guests in attendance – which featured a few big names from the NFL Draft.
Want to know more about Klutch Athletics, where to buy it, and how the brand has helped Rich Paul's net worth? You'll have to keep reading!
Who is the CEO of Klutch Athletics?
To be clear, Klutch Athletics is a brand Rich Paul formed with New Balance. While he currently serves as the CEO of Klutch Sports Group, it is believed both Paul and New Balance share ownership rights over Klutch Athletics, similar to the former partnership between Kanye West (Ye) and Adidas.
Article continues below advertisement
New Balance, on the other hand, is a privately held company owned by Jim Davis and his wife, Anna, according to Forbes. Davis currently acts as the chairman of New Balance while Joe Preston is at the helm of the company, serving as its CEO.
Here's where you can buy Klutch Athletics gear.
Klutch Athletics launched collections for men, women, and kids, all of which can be purchased online from the New Balance website as well as from Foot Locker. Items you'll find in the sportswear brand's collection include sleeveless hoodies, shorts, sports bras, baselayer pants, t-shirts, and more.
Article continues below advertisement
On July 4, 2023, Paul took to Instagram to give fans a peek at the Rich Paul x New Balance 550 "Forever Yours" sneakers, which are scheduled to release on July 14 for $130, per Hypebeast.
Article continues below advertisement
What is Rich Paul's net worth?
As the founder and owner of Klutch Sports Group, Paul's net worth stands at $120 million, according to Celebrity Net Worth. He represents some of the biggest names in the NBA, including LeBron James, Anthony Davis, Zach LaVine, Ben Simmons, and John Wall. While Paul has gained most of his recognition for serving as James's agent, his engagement to singer Adele has helped him to become more widely known.
Article continues below advertisement
Rich Paul
Sports agent/entreprenuer
Despite his humble upbringing (he reportedly grew up in a one-bedroom apartment), Paul managed to emerge from poverty and become a successful business owner. Paul founded Klutch Sports in 2012, and has taken some of the biggest names in the NBA under his wing.
Birthdate: Dec. 16, 1981
Birthplace: Paul was raised in Cleveland
Education: Graduated from Benedictine (a Roman Catholic high school)
Relationship status: Engaged to Adele
Adele and Paul took their relationship public in the summer of 2021, and the following year, she was flaunting a gorgeous engagement ring. The couple reportedly plan to tie the knot sometime in 2023, though neither has made any official announcements.